In the box:
1x SWIT S-4030, 4-Battery power station, 2x24V, V-Mount
1x SWIT S-3812S 2-ch Simultanous Fast-Charger, V-Mount
4x Swit S-8340S, 160Wh Heavy Duty Battery, V-Mount
S-4030 Power Station Box (Dual 24V)
◆ PP+ Fiber glass case, strong and durable
◆ Install 4 x V-mount batteries
◆ Dual 24V 3-pin XLR DC output
◆ LED panel to display real-time voltage and low voltage warning
◆ Charging without take out batteries by provided 4-pin XLR DC charging socket
◆ Intelligent protective circuit design, safe and reliable
Charging/discharging time
With 4PCS of fully discharged 160wh batteries, S-4030 will take around 11.5 hours to fully charge these batteries with the supplied power adaptor and the charging current is uniform distribution.
With 4PCS of fully charged 160wh batteries, S-4030 can power 85W power consumption Cine camera for around 7.5hours
Power with 4 V-lock batteries, portable and usable

Considering the size, weight, power effeciency, and usability, S-4030 is designed to be powered with 1-4 V-lock batteries, which are widely used and easy to find.
The following SWIT V-mount batteries will fit in the box:
S-8320S, S-8340S, S-8083S, S-8113S, S-8183S, S-8082S, S-8110S, S-8180S.
Attention for less than 4 batteries powering
S-4030 need at least 2 batteries, and the 2 batteries cannot be installed at ①&② or ③&④ positions.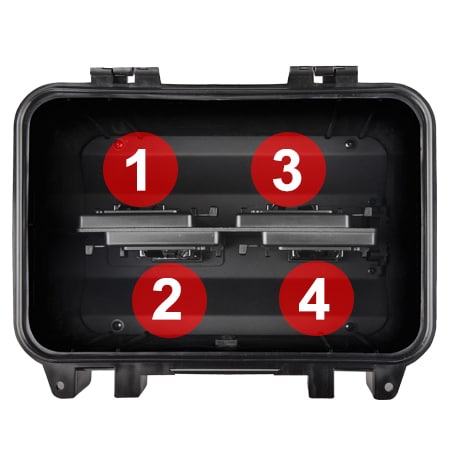 | | |
| --- | --- |
| Input | DC 16.8V 5A (Charging) |
| Output | DC 22-33.6V 15A(360W) |
| Working temperature: | 0°C~+40°C |
| Working humidity: | 10%~90% |
| Storage temperature: | -15℃~﹢60℃ |
| Dimensions | 290mm x 221mm x 278mm |
| Net weight | 3.45Kg |